Our Goal:
If we are not having fun then we are doing something wrong. Our Mission: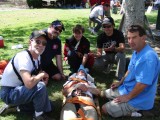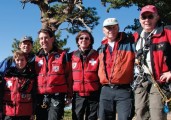 The San Gabriel Mountains Backcountry Ski Patrol is a volunteer organization based in Mt Baldy Village that operates with a volunteer agreement with National Forest Service.
Our mission is to provide services for the public's benefit in accordance with the congressional charter under Title 36 recognizing and authorizing the National Ski Patrol:
(1) to promote, in every way, patriotic, scientific,
educational, and civic improvement activities and public safety
in skiing, by such means as the dissemination of information and
the formation of volunteer local patrols consisting of competent
skiers trained in first aid for the purpose of preventing
accidents and rendering speedy assistance to individuals
sustaining accidents; and
(2) to solicit contributions of money, services, and other
property for, and generally to encourage and assist in carrying
out these purposes in every way.

As a part of the NSP our members support and participate in the ski and outdoor recreation community by providing emergency medical care, by assisting in and organizing rescues and with public outreach and education programs.
Members are trained and certified Outdoor Emergency Care Technicians and have basic Avalanche and Mountain Travel and Rescue training.
We operate in the non-commercial areas within the National Forest and provide help and resources to the USFS as requested.
We do not discriminate, and we are an inclusive organization with a diversity of different talents and abilities within our membership. Our membership includes alpine skiers, nordic skiers, snowshoers, snowboarders and hikers of all levels.
As a volunteer group we realize that a strong espirit de corps is an essential element in recruiting and maintaining members, as a result patrol activities, training and member communications are an integral part of our patrol throughout the year.

Join Us
We welcome new members. Our primary goal is to have fun. Whether you board or ski or snowshoe or hike, there is a place and a need for your help. If you want to learn new skills, then join us as we enjoy teaching and public outreach programs.
2012-13 Best Nordic Patrol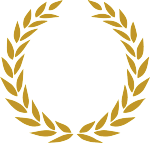 General Information: contact (at) backcountrypatrol (dot) com Webmaster: webmaster (at) backcountrypatrol (dot) com
Proudly Sponsored By